As we enter the final countdown for the three-day Rugby Sevens tournament, aka one of Asia's biggest sporting and social events, commencing Friday the 8th of April, we think that it might be useful to provide you with some survival tips for wild and boozy weekend you are in for.
via EWT
Facts and figures for that one intellectual in your friend group to just throw into a conversation and impress with (skip this if you're honestly in for the party…):
The first Hong Kong Sevens happened on 28 March 1976 when rugby clubs from Indonesia, Australia, New Zealand and more gathered in Hong Kong. The tournament expanded over the next several years, attracting commercial sponsorship, 120,000 attendees and becoming a major event that put Hong Kong on the international sporting map.
This year, a total of 16 teams will compete in the HSBC Sevens World Series (HSBC SWS) for  "The Cup", in addition to the US$100,000 cash prize. For the SWS, Fiji (106 pts) has the lead so far, after the last Sevens tournament in Vancouver, ahead of South Africa (105 pts) and New Zealand (104pts).
An additional 12 teams will compete in the international qualifier, featuring two teams from each of World Rugby's six regions. The winner will earn a promotion to next year's Series, replacing the bottom ranked team after the completion of the 2015-2016 season. Hong Kong and Japan are representing the Asian region.
via SCMP
Check out the match schedules here, as well as the male & female players who will be proudly representing Hong Kong in the Qualifier competition.
Tips on making the most of your wild weekend for the young and broke:
1) Have fun on a budget
If you want to save money on drinks, I'd suggest chucking up some cheap Seven-11 vodka before you arrive, then bring in dodgy boxed wine. They do check your bags before you enter the stadium and confiscate bottles for safety concerns but apparently (not confirmed) they allow you to bring in boxed wine.
via Hong Kong Hustle
2) Know where you want to sit EARLY
Seats aren't allocated beforehand so arrive early to secure the best spots. The opening ceremony on Friday starts at 5:46pm so I'd suggest getting there latest by 5:30pm. Your experience can vary dramatically by where you sit. East and West stands are where all the hardcore fans are, where you can watch with minimal distractions. The notorious South Stand is where you might spot your wild alcoholic high school teachers dressed in wacky costumes, shot-gunning beer and turning up hungover on a Monday morning.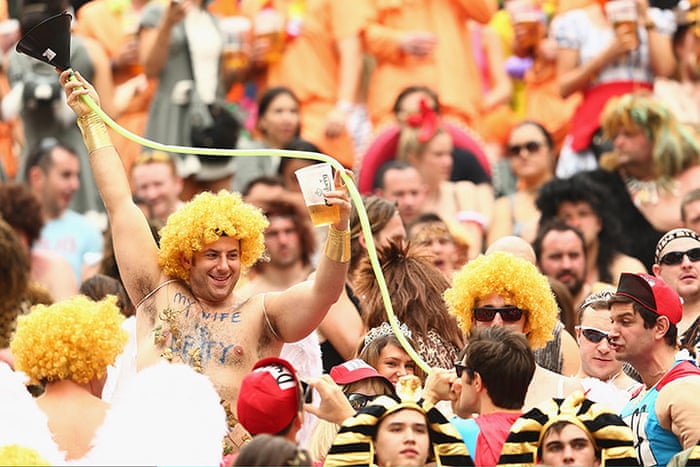 via The Guardian
3) Dress up and be prepared
Yo bruh, it's not cool to show up with a jersey to the Sevens weekend. Learn something from these crazy Telly Tubbies and streakers and up your costume game. You might also want to bring lots of tissue (especially girls for the toilet stands) and cash (trust me, you don't want to queue for the ATM).
via Boston.com
via static2.stuff.co.nz
If you really want to get an official Sevens rugby shirt for sentimental reasons, you can head down to the Kukri shop at the Basement of The Landmark.
4) Take the shuttle to the after party at LKF TO PARTY ON!
You can pretty much forget about taxis or Uber after the game if you're heading to LKF. Roads will be packed like crazy. Take the MTR, or hop onto the 94-seater double deck shuttle service that runs every 6 minutes
Shuttle schedule from HKsevens.com
Cover Photo: http://archive.boston.com/sports/blogs/bigshots/2009/04/rugby.html