With our beloved Lan Kwai, Hong Kongers have never been strangers to the art of alcohol consumption. The West Kowloon Beertopia festival last year, which showcased more than 90 beers from microbreweries, also harvested a recent infective interest towards craft beer among locals, with a growing number of places popping up around town, dedicated to serving local craft beer. (YES, beer made in Hong Kong!)
localiiz/ http://localiiz.s3.amazonaws.com/generic_images/76ead910-8bb5-0131-0039-0efe34acbcaa/beertopia-hong-kong-ladies-drinking.jpg
Craft Beer for Dummies
Before listing out all of the aforementioned drinking spots, we want to emphasize how great craft beer is. Trust us. Once you go craft, you can never go back.
So, what exactly is the difference between craft beer and your standard mass produced…Heineken, for example?"

http://1.bp.blogspot.com/-S32ESFFfC1A/T-WEDfJZcKI/AAAAAAAAAYY/MhDLKNHjgvE/s1600/Beertopia.jpg
Craft beers generally have a lot more flavor, complexity and usually also have less preservatives, as there is less need for beer to sit in kegs under the sun for ages while awaiting delivery of factory produced beer.
Craft Beer Cheat Sheet
Craft Beer: Beer from a craft brewery. That's an independent brewery with an annual production of no more than six million barrels of beer. The brewery uses traditional malting methods to make its tipples.
IPA: Stands for India Pale Ale. Usually hyper-floral and hoppy (bitter).
Porter / Stout: Strong, dark-brown or black beer. Smoky and rich. Often tastes of coffee or chocolate.
Hops: The flowers which give beer its characteristic bitterness, as well as a heady floral aroma. Hoppy beers are very trendy amongst craft breweries, for better or for worse.
Places for local draft beer
KOWLOON
TAP The Ale Project
15 Hak Po Street, Mong Kok, tel: 2468 2010. Open: Tuesday to Thursday noon to midnight, Friday to Sunday noon-2am
Even though it is situated in one of the city's busiest areas, TAP pleasantly occupies a fairly quiet spot. TAP is ultra hip, sporting minimalist industrial decor. It is truly a hidden gem that offers both international and local  beers paired with an artisanal street food menu. (Our favourite item being fried chicken toast.)
NEW TERRITORIES
The Bottle Shop
GF 114 Man Nin Street, Sai Kung New Territories, Yi Chun St, Sai Kung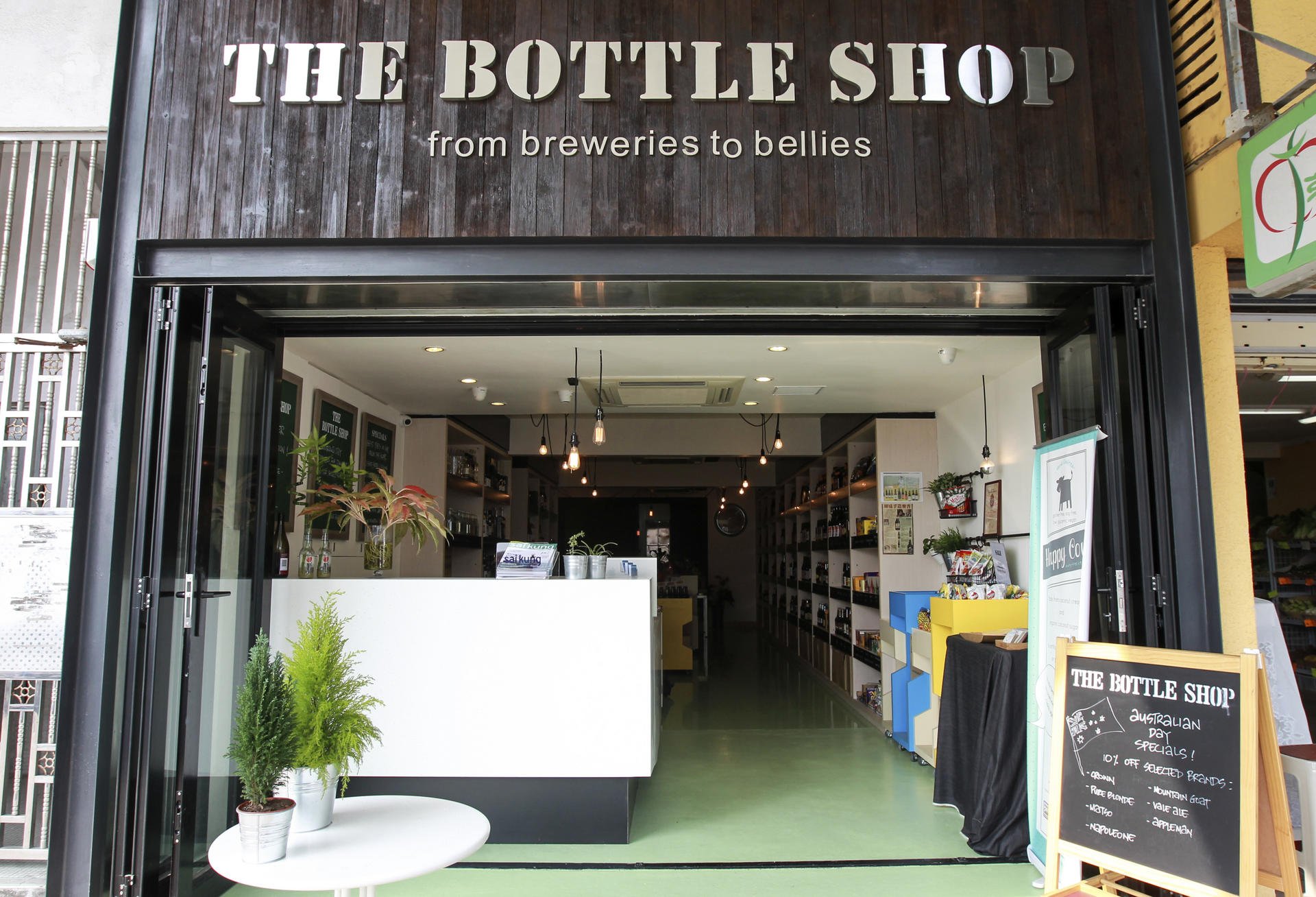 SCMP/ https://www.scmp.com/sites/default/files/2014/01/09/cad7d64858e070233253a6bcb97d1d25.jpg
This little shop in Sai Kung next to all the seafood restaurants has a collection of quality (and sometimes rather quirkily designed) craft beer. They've established their name through distributing and retailing craft beverages, and have been listed among the top 100 world brewers since 2012 and are also amongst the Founding Members of the Craft Beer Association of Hong Kong, which aims to bring Hong Kong the greatest array of craft beers collected internationally. Most of their craft beers have pretty darn corny designs. Take the Evil Twin Hipster Ale, for example. If you think you are a true hipster, you have to go check them out!
HONG KONG
1) HK Brewcraft
4/F, Kwok Lun Commercial House, 15 Cochrane Street, Central, tel: (852) 5925-2739. Open: Monday to Sunday 11am to 8:00pm
HKBrewcraft/http://www.hkbrewcraft.com/img/beer_appreciation_workshop.jpg?1406624810
Not only do they sell locally brewed beer, the crew at HK Brewcraft also runs workshops that teach you a thing or two about beer tasting. They even provide you with home-brewing kits if you sign up for the 3-hour home brewing crash course ($680 per person).
2) Craft Brew & Co.
High Street, Sai Ying Pun, tel: 2559 0498. Open: noon to late
Located at the city's exciting new area of Sai Ying Pun, this bar provides a great alternative to the usual Lan Kwai Fridays. Craft Brew & Co. is a great spot to hang out with friends, with their simple rustic decor and collection of more than 15 beers on tap.
Lifestyle Asia Magazine/ http://lsa5.0.assets.s3.amazonaws.com/wp-content/uploads/2014/07/14617635632_db4b676eda_o-1.jpg
Like TAP, they also serve food, the most eye catching item on the menu being their exotically flavoured gourmet sausages. We're talking snake, rabbit and jalapeno…just to name a few. We dare you to try!
yelp/http://s3-media3.fl.yelpcdn.com/bphoto/5EEgqQZfs4fUrb6Yjo8iew/o.jpg
3) The Globe
G/F, Garley Building, 45-53 Graham St., Central, tel: 2543 1941, Open: daily 9pm-1am
A 3,500 sq ft bar area, dining area and lounge, the Globe has a fine collection of  imported and local beer, including that of The Hong Kong Beer Co., originating from areas such as Dragon's Back and Big Wave Bay. Also a great place for enjoying a football game or for challenging your friends to a game of Wii tennis.
Hong Kong Geoexpat/https://hongkong.geoexpat.com/media/com_mtree/images/listings/o/4434.pm