Friendly, funny and ambitious. Those were the words that came to my mind when I first met Avinaash V. He founded Hong Kong's first ever business fraternity, Alpha Kappa Psi, and now he's killing it with his brand new invention ATOM™.  As a final year student at Hong Kong University of Science & Technology, Avi decided to take the road less traveled, turning away from big 4 accounting firms and investment banks to create ATOM™, a sleek portable power supply that has enough kick to power your guitar amp when you go busking, charge your laptop when you're working at a cafe or charge your phone up to 18 times when you're travelling. The Indiegogo campaign for ATOM™ has already raised over $470K HKD in mere weeks.
Tara T. and I decided to talk to Avi, firing him with some embarrassing questions along the way.
MadbuzzHK: Hi Avi, could you tell us a bit about your product ATOM

™

?
Avi: ATOM™ started off as an idea at my college dorm room. A few of my friends wanted to go on a camping trip and we really wanted a way to use our speakers and lighting equipment at the campsite, but we didn't have the solution obviously because there weren't any outlets out there. Then I thought, "wouldn't it be really cool if we could take the wall outlets wherever we go?" My partner Luv told me "Wait! That's actually possible!" So that's how the idea was born.
MadbuzzHK: Who do you think ATOM

™

will appeal to

?
Via hksyuenglishnews
Avi: Soon after we started working on ATOM™, our friends started telling us that they had been through similar situations, when they were in a cafe or at the airport without a power outlet. That's when we realized that [it] could impact a lot of people, especially photographers, musicians and outdoor enthusiasts. We then turned it from a project to a product.
MadbuzzHK: How did you come up with ATOM

™'s name?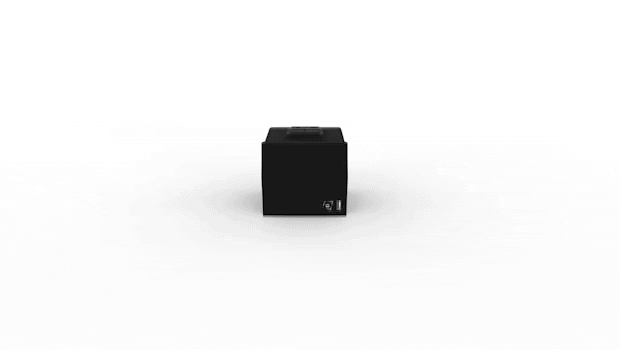 Avi: Initially, we called it the power cube or something like that, but we wanted to have something powerful, and a name that everyone can associate with. Something related to power, physics, compact and portability.
MadbuzzHK: Can you tell us about your team? I know that you haven't graduated from university yet. Are you all university students? Is this a trend for Hong Kong startups? 
Avi: We are in an age when I think the Hong Kong startup scene is booming. It's very cool being in the midst of it while it's growing (unlike Silicon Valley where everything is already established). We started ATOM™ in our final year of university. I actually just recently finished all my classes and my graduation is happening this month. My co-founder (Luv) who studies mechanical engineering is also about to finish his degree in a month. In the past, most startups in Hong Kong would go for softwares or app development, but I think that there is an increase in hardware product development lately, largely due to Shenzhen being the hardware capital of the world. We get access to it since it is so close.
MadbuzzHK: How did you decide between Indiegogo and Kickstarter for your crowdfunding campaign?
Avi: Indiegogo is geared towards technology projects, and Kickstarter is more known for film and art, so we decided to create an Indiegogo campaign instead. The platform allows us access to a lot of useful backend analytics, allowing us to optimize ads and analyze traffic.
MadbuzzHK: You now have 30 seconds to do a shameless plug for your Indiegogo campaign.
Avi: We are student startups and boostrapping really hard, basically meaning we have no funds. We are making a viable product and we're trying our best to show that to the world, and people who believe in our project can back our campaign. Our goal is to raise 50K USD and validate our idea. The campaign is ending in a few days, so go check it out here.
We then fired Avi with some really tough questions… 
(WARM-UP) MadbuzzHK: Apple or Microsoft?
Avi: APPLE!
MadbuzzHK: Hot chocolate or coffee?
Avi: Hot chocolate! (YOU MUST BE KIDDING ME!)
MadbuzzHK: Name your favourite TV shows?
Avi: Right now…err…Game of Thrones!
MadbuzzHK: Snapchat or Instagram?
Avi: (with no hesitation) Snapchat!
MadbuzzHK: The most important question of all…Justin Bieber or Miley Cyrus?
Avi: Justin Cyrus!
For more information on ATOM™, check out their website, official Facebook page, Indiegogo Campaign and Youtube Channel.