We met the cast of Singin' in the Rain at the HKAPA Lyric Theatre, moments after their stellar media sneak peak performance on Friday afternoon (September 25th), the same theatre that, in mere hours, would fill up with Singin' in the Rain devotees in time for opening night.
Based on the classic 1952 film, Singin' in the Rain is a romantic, comedic musical, that follows the story of Hollywood superstar Don Lockwood, (Duane Alexander) as he makes the tough transition from a silent film actor, to a "talkie" star in the late 1920s, while juggling a budding romance with aspiring actress Kathy Selden (Bethany Dickson), with help from his goofball best friend Cosmo Brown (Steven van Wyk).
Basking in the electrifying blue glow of the Monumental Pictures Studio set behind us, Duane Alexander, Bethany Dickson and Steven Van Wyk, though exhausted and sweat drenched, let us pick their brains on some very random topics, from Tinder, to Cha Siu Bao, to Cody Simpson, while taking on our Singin' in the Rain themed Never Have I Ever challenge. Here's what went down…
1. Cosmo's Tinder profile would probably feature cats
We kicked things off with an incredibly deep question… what their Tinder profiles would say, in the highly unlikely event that their Singin' in the Rain characters decided to sign up for the notorious hook-up app.
Steve: I actually don't think that [Cosmo] would describe himself directly. I feel like his whole Tinder profile would be a gag. So he'd probably have a picture of a cat, and say something dry. He's not the type of person to say "I'm funny, I'm clever", because he'd want to test if someone got it, and then they'd be a match.
MadbuzzHK: I feel like Cosmo could actually use a little help from Tinder though. He tends to third-wheel Don and Kathy quite a lot.
Steve: He does third wheel quite a lot, but you know, you don't see what happens off-stage with Cosmo ;). That's the thing. It's Don's love story, but Cosmos' might be taking place. You just don't know about it. That's how I explain it to myself anyway.
Duane: Well Don's a celebrity, like an A-list celebrity, so if you had to scroll through Tinder and find somebody like Brad Pitt on there, you'd be swamped with… invites? Requests?
MadbuzzHK: Maybe "Dignity, always dignity." That's sort of his motto, isn't it?
Duane: YES. Perhaps his nice little slogan.
Bethany: When Tinder came out I was already married, so I don't even know. I suppose Kathy would be looking for someone who is ambitious and supportive of her choices in life, 'cause she wants to be a big famous star. And someone who understands industry.
2.  A Trio of Triple Threats
The all-singing, all-dancing cast of Singin' in the Rain shine in lavish Olivier Award nominated dance number after dance number, which feature tap heavily, with ballet and other elements sprinkled here and there. The cast are triple threats in every sense of the word, but they're really more like… quadruple threats, when you throw in their killer abilities in handling tongue twisters. Watching them can be an awe-striking experience, when you reflect on how your go-to dance move is fist pumping, and how you can hardly pronounce Benedict Cumberbatch without slipping up.
The cast explained that mastering all three elements was a result of strong backgrounds in dance training, and evolutions in interest as time went on."I worked for Cape Town City Ballet," said Steve, "I have my own dance company back home (Underground Dance Theatre), where we do physical theatre meets contemporary dance. So dance is my world. But as I'm getting older (I'm almost 30), I'm moving more out of that, and into the singing and acting side." Bethany added "I trained my whole life dancing. I did that for like 18 years, but it's definitely not my first love. I love dancing, and I'm so happy to do a show that involves dancing, but singing is more my thing."
3. When the cast have down time, they hang out with Cody Simpson. No biggie.
Before heading to Hong Kong, Singin' in the Rain set up camp in Singapore and the Phillippines, with the cast serendipitously crossing paths with Cody Simpson in the latter country, who was also on tour at the time. This resulted in this very vocal appreciation of the Australian singer / song-writer put forth through Twitter.
Knowing all the words to songs by @CodySimpson that I didn't know a week ago.I'm hooked!The whole SITR cast is! @Kharrari @adriancotadrums

— Bethany Dickson (@bethany_dickson) August 21, 2015
"We met [Cody] in Manilla, 'cause [him and his band] stayed at our hotel. So we kind of hung out with him and his band and that was so much fun. They gave us tickets to go see their concert. I knew who he was, but I wasn't very familiar with his music. When I downloaded his latest album, I was obsessed, because it's totally my sort of music… In a matter of 2 months, I'd learned an entire album. Cody Simpson is like, the lovechild of John Mayer and Jack Johnson. An Australian lovechild."
And if that wasn't enough to convert you into a Cody Simpson fan (it most definitely worked on us), here is actual proof of Cody Simpson's parentage.
4. Quest 

SkinnyBitch™: The hunt for cheekbones
We also learned that when you prance on stage at such intensity as these guys do, it does eventually take a toll on your body, for better or for worse.
"When you dance so much, you can really eat whatever you want," Steve explained. "But now, when you do the same show for so long, your body kind of gets used to it. When we first started doing the show, I lost a whole lot of weight. I was like 'OMIGOSH I can see my cheek bones!' And I was loving being a SkinnyBitch™. As time goes on, your body finds a way of finding it less and less exhausting… so you start putting the weight back on. And I was like 'OMG I can't eat what I want anymore'. At the hotel there's always a breakfast buffet, so I was like 'OK I'm just going to eat some fruit in the morning'. So that's the quest. I want to see my cheekbones again.
While we're convinced Steve will charm as Cosmo with or without cheekbones, we asked what he'd miss eating most as he embarked on his quest.
"In this town, I love the dimsum. I love a BBQ pork bun, so that's pretty tough for me, 'cause that's a lot of white carbs."
Steve went on to say that it wasn't just BBQ pork buns (CHA SIU BAO #YAAAAAS) that has appealed to him in Hong Kong.
"I must say, everywhere that I've been… Hong Kong is truly honestly one of the only places where I can think 'I could live here'. 'Cause it's got mountain, and it's got ocean, beaches, the city, nightlife… so it's like a really nice combination of things, which really appeals to me. And it's easy. It's easy to get around."
How does he handle the tormenting Hong Kong heat and humidity though, especially in his Singin' in the Rain suit and trenchcoat?
"I dunno. It's part of being SkinnyBitch™ I guess. Just like a little sauna costume. Sweat is fat crying."
At this point, it dawned on us that this would make for a great motivational gym poster for SITR fans, so we proceeded to make one. Because that's the type of lame thing we do at Madbuzz. #sorrynotsorry
5. Expect to leave the theatre grinning on auto-pilot
On why Hong Kong-ers should go see the show, Duane explained, "You think that this is an outdated piece because it stems back to the 50s, but it really isn't. We've had young people, 5 – 6 year olds, come watch the show, and then post stuff on Instagram and Facebook… There's one little boy in Singapore who's done a whole concert of Singin' in the Rain… there's Moses Supposes and Singin' in the Rain, with his sister spraying water… Added to all of that, [Singin' in the Rain] is just this uplifting, really feel-good musical, which is exactly why it was written. It was intended to get people out of the post-war depression. It gave them an escape. And that still resonates today."
And it's true. The flamboyantly vibrant, colourful and meticulously detailed set really merits commendation, with the classic "Singin' in the Rain" sequence, made with the help of 12,000 litres of recycled water, being, quite naturally, the most impressive. Watching Duane Alexander expertly manoeuvre his way across stage in that care free manner of his is a mesmerising experience. There's something about capturing the outdoors, and miniaturising it on stage that lends the scene a magical and intimate quality, as if you're peering into a snow globe, giving life to the musical in ways the movie couldn't have. Bethany Dickson's stand out vocals played at the audience's heart strings during key ballads, while the very tangible and physical slapstick humour Steve van Wyk delivered so precisely, as well as Taryn-Lee Hudson's portrayal of diva Lina Lamont (who can only be described as Janice from Friends meets Sharpay Evans from High School Musical blended meets Alvin the chipmunk) collectively reined in the majority of laughs from the audience.
And if all of that meant squat to you, Bethany summarises quite eloquently… "It's the best show ever!"
And then we challenged the cast to a game of Singin' in the Rain themed Never Have I Ever
Although, in the absence of tequila shots or any other form of alcohol whatsoever, it was really just us asking incredibly weird questions in the form of statements. Here goes…
Never haver I ever… sung in the rain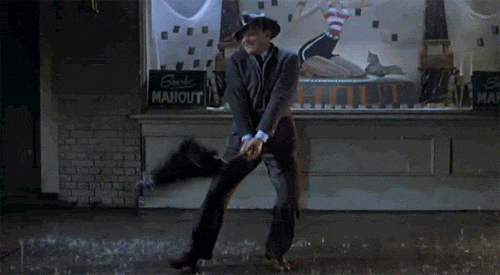 MGM / Via Giphy
Duane: I was at a party once, it started pouring, so I was like "Ah this is so much fun!" So a whole bunch of us went out and danced in the rain.
Bethany: I have definitely done that. [I'm usually singing] Taylor Swift. I love her. Either that or show tunes.
Steven: I have definitely sung in the rain. 'Cause there's that song *bursts into full-on singing mode* "Kiss the Rain. Can you hear me." Cape Town (Steven's home town) rains a lot in the winter, so I'm often singing in the rain.
Never haver I ever… seen a silent film

MGM / Via SoulOfThePlot
Duane: The Artist. And I have a small collection of Charlie Chaplin movies at home… in fact, his footprints are on stage, on our fake Hollywood Walk of Fame somewhere… In our show, we have some silent movie footage, and that style is very Charlie Chaplin-esque. It's interesting to draw the comparison… but the [silent movie] that resonates most to me is the Artist. Such a clever, clever piece, helped the modern day audience relate back to that era, what it took to make a movie and what it took to be an actor. It's a very interesting parallel to this.
Bethany: I've seen the Artist, but I don't know if that counts, because it was made very recently.
Steven: The Artist.
Never haver I ever… thrown cake at someone

MGM / Via Snip.ly
Duane: I don't think I have… You know what, I'll make that a mission of mine. Next month I aim to throw cake in someone's face.
MadbuzzHK: When you guys wrap up in Hong Kong and have a celebratory cake…
Duane: Exactly! We had our 100th show not so long ago in Manila. We had this beautiful big blue cake made with "100"… that could have been a good opportunity… It was unfortunately just before a show, so maybe it wouldn't have gone down too well. But like you said, when we wrap up, for our 200th performance, I'll do it and I'll send you a photo.
Bethany: I threw cake at my husband. Where I just like, smashed it in his face.
Steven: I've thrown cake at someone. I feel like it was high school, when you have food wars. Just like "FOOD FIGHT". It's definitely gone down.
Never have I ever… stayed up all night

MGM / Via Persephone
Duane: It's a tradition of mine actually… on New Year's, to party through the night, go into the early hours of morning, stay up until the sun rises and then watch the first sunrise of the next year. It's probably already 10 years running, this tradition of mine.
Steven: I've stayed up all night a lot.
MadbuzzHK: Work or partying?
Steven: Both. I've studied a lot, so I've had to pull all nighters a lot for exams.
Bethany: I have done that. Many many times. As a child, with my friends, and then you kind of bail 6am in the morning… Exams? I was very "diligent". I studied a few days before exams.
Never have I ever… taken a selfie with myself on a Singin' in the Rain poster
Duane: Definitely have done that, a couple of times. Luckily for me, in Manila, there was a huge billboard which had a picture of me splashing, and I went and shamelessly posed. You've got to send it to your Mom at least right? It was huge, like 2-3 stories. The biggest I've ever seen myself, how's that.
Bethany: I haven't posted them, but when I arrived in Singapore, there were banners in the airport so I was like "chk".
Steven: You've stalked me on Instagram! You know I've done that. When we were in Singapore and I saw it on the train doors I was like "That's me! With me!" That was pretty cool.
MadbuzzHK: Do you ever freak out when you see a huge poster of yourself?
Steven: Well in Manila there was a really big billboard, but they hadn't airbrushed us, and we were enormous. I was like "Why did they not airbrush the facial redness! This is a terrible photograph to have enlarged." My face was enormous.
Singin' in the Rain is set to run at the Lyric Theatre, Hong Kong Academy For Performing Arts until October 25th, 2015. Tickets available from http://www.hkticketing.com.